News
Professor Pablo Cabrera-Barona co-authored an academic article in the Ibero-American Journal of Development Studies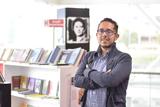 Pablo Cabrera-Barona, profesor investigador del Departamento de Asuntos Públicos, conjuntamente con Paúl Cisneros del Instituto de Altos Estudios Nacionales-IAEN y Víctor López, investigador de FLACSO Ecuador e IAEN, publicaron el artículo académico titulado 'Civil society and the 2030 Agenda. An assessment of the implementation of SDG-actions in the Metropolitan District of Quito' en la Revista Iberoamericana de Estudios del Desarrollo, indizada en Scopus.
El objetivo del artículo es determinar las condiciones que influyen en la densidad de presencia de organizaciones de la sociedad civil en la implementación de acciones relacionadas a los ODS en las parroquias rurales del DMQ.
El profesor Cabrera-Barona, es autor y coautor de una importante cantidad de artículos de impacto y ha sido ponente en conferencias académicas en América Latina, Europa y Asia. En 2018 ganó el Waldo Tobler Young Research Award otorgado por la Academia de Ciencias de Austria al investigador joven del año. Actualmente es vicepresidente de la Asociación Geográfica del Ecuador y miembro del Comité Directivo de Young & Early Career Geographers Taskforce.
Más información:

http://ried.unizar.es/public/abstracts/civilsociety.pdf

---

More items
---