News
USA | FLACSO´s teacher attended seminar of the American Council of Learned Societies-ACLS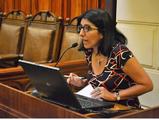 Gioconda Herrera, profesora investigadora del Departamento de Sociología y Estudios de Género, participó en el 'Learned Society Leadership/Governance Seminar' organizado por el 'American Council of Learned Societies-ACLS'. La profesora Herrera, asistió en representación de la Asociación de Estudios Latinoamericanos-LASA de la cual es presidenta junto a Milagros Pereyra, directora ejecutiva.
En el seminario que se llevó a cabo el 8 y 9 de septiembre en la ciudad de Nueva York, se destacó la importancia de las organizaciones académicas mediante el establecimiento de comunidades de conocimiento que se extienden más allá de las fronteras institucionales ya que constituyen estándares de valor académico, revisión y práctica al difundir conocimiento a través de publicaciones, métodos pedagógicos y debates académicos.
American Council of Learned Societies-ACLS es una federación sin fines de lucro que asocia 75 organizaciones académicas, cuyo objetivo es promover la circulación del conocimiento humanista en todos los campos del aprendizaje en las Ciencias Sociales y el fortalecimiento de las relaciones entre las sociedades involucradas en la promoción de la investigación, la publicación académica y la educación.
Más información:
https://www.acls.org/home
---

More items
---