Events
Book presentation "El fenómeno Trump, la bestia rubia" de Fander Falconí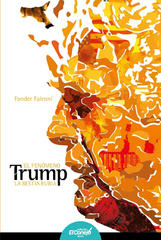 FLACSO Ecuador, su Departamento de Desarrollo, Ambiente y Territorio


tiene el grado de invitar a usted a la

---
Presentación del libro
El fenómeno Trump, la bestia rubia
de Fander Falconí
Jueves, 2 de julio de 2020 - 16h00 (hora de Ecuador)


---
Intervendrán:

Dr. Ernesto Samper Pizano
Expresidente de Colombia y exsecretario
General de UNASUR

Sr. John Perkins
Escritor y economista estadounidense.
Autor más vendido del New York Times

Dra. Isabel Ramos
Coordinadora docente y profesora
investigadora de FLACSO Ecuador

Dr. Fander Falconí
Profesor investigador de FLACSO Ecuador

Modera:

M.A. Belén Páez
Presidenta de la Fundación Pachamama

INSCRIPCIONES AQUÍ
Luego de la inscripción, recibirá un correo electrónico de
confirmación con información para unirse al seminario web.
---
El libro de Fander Falconí es un análisis muy necesario de la globalización, el declive del imperio estadounidense y el papel del presidente Trump para acelerar ese declive.
John Perkins
Escritor más vendido del New York Time
Entre otros libros es autor de Confessions of an Economic Hit Man,
Hoodwinked, The Secret History of the American Empire.

El libro de Fander Falconí es una contribución excelente que nos explica el fenómeno de la globalización neoliberal de estos últimos años. Trump y Bolsonaro quieren mantener el sistema capitalista; usan su poder para destruir la Naturaleza y la Amazonía y están cometiendo el mayor ecocidio de estos tiempos.
Manari Ushigua
Líder Sapara
---

More items
---