Events
Colloquium Political ethnography of urban marginality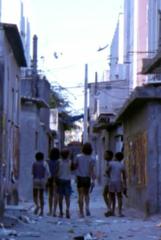 FLACSO Ecuador, su Maestría en Sociología Política de los
Departamentos de Estudios Políticos y de Sociología y Estudios de Género,
tiene el agrado de invitar a usted al
---
COLOQUIO DE INVESTIGACIÓN
ETNOGRAFÍA POLÍTICA DE LA MARGINALIDAD URBANA
Viernes, 21 de junio de 2019 - 11h00 - FLACSO Ecuador
---
a cargo de:
Javier Auyero*
Universidad de Austin-Texas, EEUU.
modera:
Edison Hurtado, FLACSO Ecuador
Lugar: Salón de Afiches FLACSO (torre 2, piso 2)
Dirección: La Pradera E7-174 y Av. Diego de Almagro
---
*Javier Auyero es doctor en Sociología por The New School of Social Research (Nueva York) y profesor del Departamento de Sociología de la Universidad de Texas en Austin. Ha escrito ampliamente sobre marginalidad urbana, protesta y acción colectiva, clientelismo, violencia, márgenes del Estado y métodos etnográficos.

Es autor de La Política de los Pobres (Manantial), Vidas Beligerantes (UNQUI), La Zona Gris (Siglo XXI) y Pacientes del Estado (Eudeba). Junto a Débora Swistun publicó Inflamable: Un estudio del sufrimiento ambiental (Paidos) y con María Fernanda Berti el libro La Violencia en los Márgenes (Katz). Su libro más reciente (2019) es The Ambivalent State. Police-Criminal Collusion at the Urban Margins, en coautoría con Kathernie Sobering.
Actualmente es director del Laboratorio de Etnografía Urbana en UT-Austin.
---

More items
---