Campus Ecuador
La Sede de FLACSO en Ecuador fue establecida en 1974, mediante un acuerdo entre el Estado ecuatoriano y el sistema internacional de FLACSO. La institución forma parte del sistema universitario ecuatoriano y fue reconocida por la Ley de Educación Superior en el año 2000. La Sede goza de autonomía administrativa y financiera en concordancia con su acuerdo constitutivo.
Misión
FLACSO Ecuador construye y difunde conocimientos y saberes en el campo de las ciencias sociales y las humanidades a través de la docencia y la investigación crítica y creativa. Sus principios son el pluralismo y la autonomía académica en la búsqueda de contribuir al desarrollo de las diversas corrientes del pensamiento latinoamericano y andino, y de promover la justicia, la equidad y la inclusión social.

Autoridades
Director:
Juan Ponce, Ph.D. Institute of Social Studies, La Haya, Holanda
Subdirectora Académica:
Cintia Quiliconi, Ph.D. University of Southern California, EEUU
Coordinadora Docente:
Isabel Ramos, Dra. Universidad Nacional de Cuyo, Argentina
Coordinador de Investigación:
Marco Córdova, Dr. FLACSO Ecuador
Subdirector Administrativo-Financiero: Marcelo Rodas, MBA Universidad Politécnica Salesiana, Ecuador
Secretario General-Procurador: Ramiro Viteri, M.A. Harvard University, EEUU
Coordinadores/as Departamentos Académicos
Antropología, Historia y Humanidades:
Fernando García, Dr. en Ciencias Sociales, IDES-Universidad Nacional de General Sarmiento, Argentina
Asuntos Públicos:
Betty Espinosa, Dra. Universidad Católica de Lovaina, Bélgica
Desarrollo, Ambiente y Territorio:
Myriam Paredes, Ph.D. Universidad de Wageningen, Países Bajos
Estudios Internacionales y Comunicación:
Fredy Rivera, Dr. Universidad Nacional de Cuyo, Argentina
Estudios Políticos:
Santiago Basabe, Dr. Universidad Nacional de San Martín, Argentina
Sociología y Estudios de Género:
Cristina Cielo, Ph.D. en Sociología, University of California, Berkeley, EEUU
Planta docente
El 93% de la planta docente a tiempo completo posee título de Ph.D. o equivalentes. Todos los profesores(as) de la Facultad tienen un título internacional de postgrado, cuya base mínima es Maestría, y numerosas publicaciones científicas dentro y fuera del país.
Ver listado profesores/as titulares e invitados/as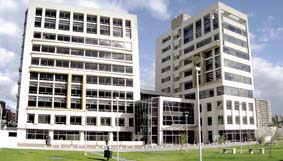 ---
---