News
Launch of the Center for Advanced Studies in Social Sciences and Humanities in Latin America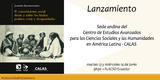 En FLACSO Ecuador tendrá lugar el lanzamiento de la sede andina del Centro de Estudios Avanzados para las Ciencias Sociales y las Humanidades en América Latina, como parte del "María Sibylla Merian Center for Advanced Latin American Studies in the Humanities and Social Sciences (CALAS)". CALAS es un proyecto con presencia en Alemania y en América Latina; en nuestra región, la Universidad de Guadalajara (México) es la sede principal, la Universidad de San Martín (Argentina) es la sede para el Cono Sur, la Universidad de Costa Rica es sede en Centro América y el Caribe, y FLACSO Ecuador será la sede del Centro Regional en los Andes.
El proyecto cuenta con compromisos de apoyo internacionales, principalmente del Ministerio de Educación y Ciencia de Alemania, se asienta sobre redes universitarias y formará equipos de investigación interdisciplinarios para la construcción y socialización de conocimientos.

Las jornadas de lanzamiento del proyecto se proponen una reflexión sobre qué son los centros de estudios avanzados como plataforma de construcción de conocimiento; asimismo, promoverán una discusión sobre formas de investigar la crisis global desde el pensamiento latinoamericano, y sobre las políticas de educación, ciencia e investigación en las que se asienta la universidad ecuatoriana, clave en la región andina. Se trata, en definitiva, de propiciar análisis sobre las posibilidades y realidades de la producción de conocimiento social en los Andes, y tejer redes de colaboración regional y global.


Ver agenda
---

More items
---