Events
Conversation 'Venezuela without lights. Situation on the current Venezuelan'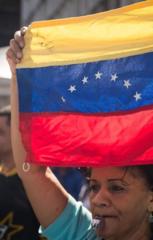 FLACSO Ecuador, su Doctorado en Ciencia Política del Departamento de Estudios Políticos,
y la Asociación Ecuatoriana de Ciencia Política-AECIP
tienen el agrado de invitar a usted al
---
CONVERSATORIO
VENEZUELA SIN LUCES
UNA DISCUSIÓN SOBRE LA SITUACIÓN ACTUAL VENEZOLANA
Miércoles, 20 de marzo de 2019 - 18h00 - FLACSO Ecuador
---
con la participación de:
Javier Corrales*, Amherst College, EEUU
Política
Leonardo Vera, FLACSO Ecuador
Economía
Carmen Gómez, FLACSO Ecuador
Migración
modera:
Carolina Curvale, FLACSO Ecuador
Lugar: Salón de Afiches FLACSO (torre 1, piso 2)
Dirección: La Pradera E7-174 y Av. Diego de Almagro
---
* Javier Corrales es profesor de la cátedra Dwight W. Morrow 1895 de Ciencias Políticas en Amherst College, Massachusetts. Entre sus obras monográficas más recientes, encontramos: Fixing Democracy: Why Constitutional Change Often Fails to Enhance Democracy in Latin America (Oxford University Press, 2018), The Promise of Participation: Experiments in Participatory Governance in Honduras and Guatemala (Palgrave Macmillan, 2013), U.S.-Venezuela Relations since the 1990s: Coping with Midlevel Security Threats (Routledge, 2013) y Dragon in the Tropics: Hugo Chávez and the Political Economy of Revolution in Venezuela (Brookings Institution Press, 2011).
---

More items
---